The MHAB, committed for the last 3 years to an active and reasoned acquisition policy, has acquired a work by the artist Jean Peské in the auction room.
Jean Peské, who has been recognized by art critics, public institutions and collectors since his lifetime, is one of the major artists represented in the museum's collection.
Of Polish origin, Jean Peské moved to France to study art in Paris. The link between the artist and the village of Bormes is undeniable. It was in the South of France from 1910, and particularly in Bormes, that the painter tried to tame the light. After living in the village, he built a small house on the Pointe de Gouron in La Favière and divided his life between Bormes and Paris for about fifteen years. He became very famous between the 1920s and 1940s. His work is remarkable and his life rich in artistic encounters such as those with Henri de Toulouse Lautrec, Pissarro, Bonnard and Paul Signac.
His portraits of trees and his wash drawings enhanced with Indian ink characterise his singular and innovative work, as shown by this new acquisition, a representation of a chestnut tree in the Vendée.
The work will soon undergo restoration before being exhibited in the museum's hall alongside the ink on paper already on display: The Old Cork Oak and the Shepherd and his Sheep on the Plain of Bormes, signed by the same artist.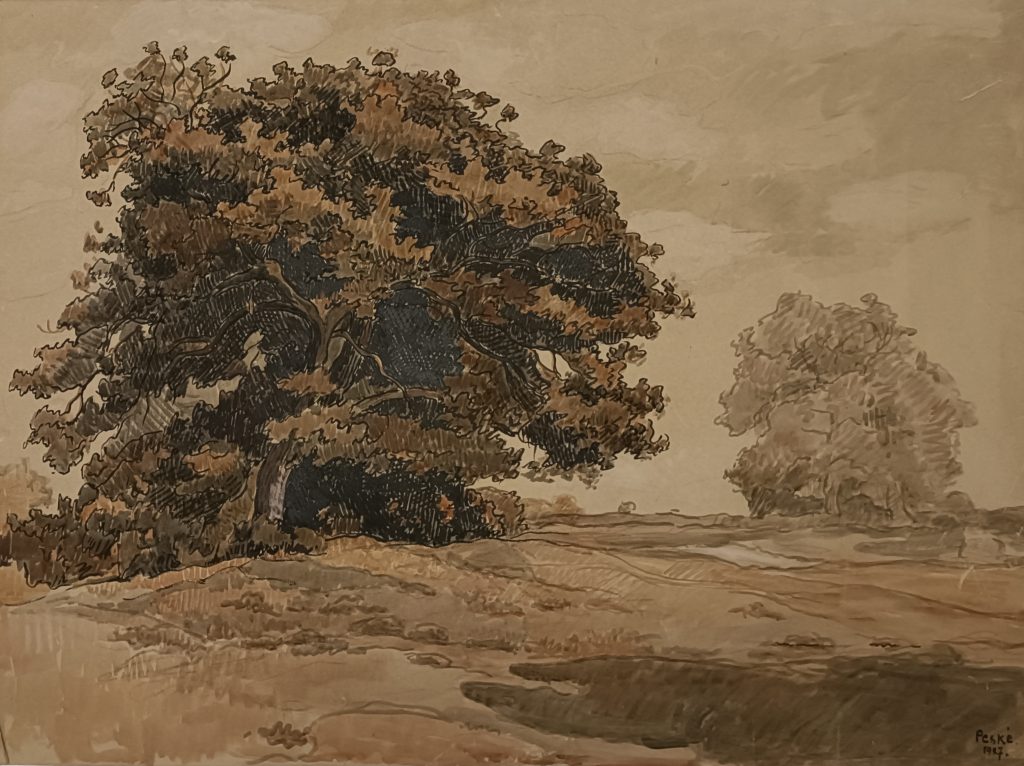 Title : Environs de Saint-Jean-de-Monts (Vendée)
Artist : Jean Peské
Date of creation: 1927
Material and technique : Watercolour ink on paper
Dimensions: H. 73 cm, W. 98 cm
Inventory number: 2022.1.1